Project Darwin


A Multi Revenue Opportunity
Project Darwin, LLC.
P.O. Box 3010
200 McCullough Tonopah, Nevada 89049
Office: (760) 876-8024 Cell: (775) 772-0446
Email: zincmine@wildblue.net
Website: www.darwinsilver.org

The information contained herein is believed to be true and correct. The reader is not to rely on any such representations expressed or implied and any potential investor or buyer is encouraged to investigate all matters concerning the statements made herein and not rely upon them. All financial operating expenses, sales and profits are "Projections" and should not be construed to be facts or relied upon to make an investment in the project. This document and all exhibits hereto attached are for information purposes only and it is recommended that any party investigating this opportunity use normal and customary due diligence to satisfy oneself before considering an investment in this business opportunity. This document and the attachments are not to be construed to be a solicitation to purchase or sell the mine or a solicitation to purchase stock or other equity.

THE DARWIN BASE METAL MINE


BUSINESS SUMMARY

The Darwin Mine, located in Inyo County, California, approximately 100 miles south of Bishop, California has over a hundred years of history, producing profitably when market prices were favorable and conversely, closing down when metal prices fell. During the late 1970's the Chinese systematically dumped one low priced base metal after another on world market, closing down hundreds of hard rock mines across the United States. The Darwin mine was one of these mines.

Map of Darwin Area Showing Location near Hwy 190 and Death Valley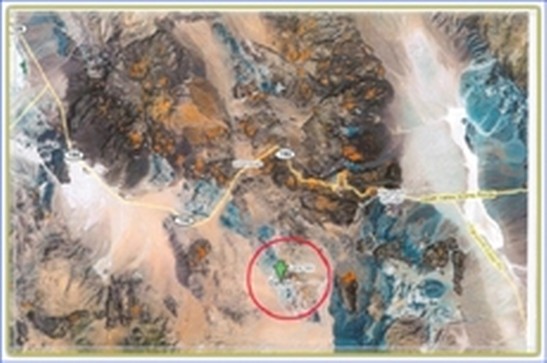 The overall project is a combination of a number of mining claims and mineral deposits. The actual Darwin mine covers an area of 1,050 acres of patented claims representing over a dozen large-scale mining operations, millions of tons of Limestone and Granite rock are available for aggregate and animal feed supplements among other uses.

Originally consolidated by Hearst/Rockefeller (Signal Oil), the mine was sold to Anaconda Copper in 1944. After Anaconda sold the mine, various mining companies, including Blue Range Mining and Cyprus Minerals, as well as several leasers have explored and operated Darwin. In 1996, with the market cost of base metals still low, my now deceased partner and I purchased the property from Blue Range. When my partner passed away in 2002, my wife and I purchased the remaining shares from his estate thus taking full and complete ownership of the property.

We have invested heavily in the mine over the past 20 years including bearing the costs of maintaining water rights, rights of way, security and miscellaneous fees. We have also secured the documented work of Cyprus Minerals, generated in 1991 and have compiled all geological information including engineering reports, mapping, drill cores, and re-logs totaling $28M in value, development that at today's cost would be worth over $920M. Additional investment value from the mine acquisition includes $7.5M in equipment, rail underground, ore cars and over $2M expended in the past two years alone in maintenance, taxes, and fees. Excluding minerals there is over $155M of hard and soft asset value in the property.

With a documented historical record of high profitability, 40 percent direct-ship ore, and a four to one ore to waste ratio, exploration has continued. Today, bedded ore bodies and breccias pipes and pillars, rich in silver and base metals, have been blocked out and are ready to mine. Only a small fraction of the more than 1000 acres of the area making up the Darwin Mine Project have actually been mined or drilled. The various ores making up the Darwin mine consist of a potpourri of base metals including tungsten and zinc (both oxide and sulfide), copper, silver, and lead. Minor metal includes tellurium, germanium, indium and bismuth. Based on the work by Cyprus, we project a bulk ore target of fifteen million tons of zinc ore at 15 percent zinc indicating the potential for a 50-year mine life. A potential 4 million tons above the 1300 level in the Defiance-Essex-Thompson breccias pipe system is another substantial target. During the initial phase of the project 10,000 feet of core drilling is planned, developing the large targets while mining the historical reserves of 380,600 tons of ore. Concentrating on the previously producing 433/435 area mined by Montecito from 1973 to 1976 producing Tungsten, Zinc, Silver and Lead in economic quantities the Zinc Oxides in the Defiance 418 as well as halos surrounding the mined sulfides throughout the mine, till pricing dropped forcing shutdown.

High Grade Underground Copper Vein at Darwin Mine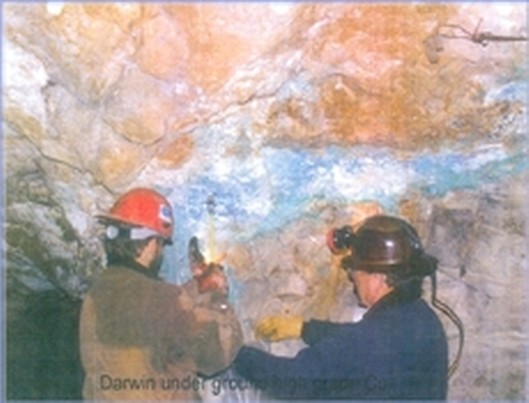 The mine contains over one hundred thirty-eight miles of drifts, 3.2 million tons of ore and waste mined, rail, hoists, pipe, in place adequate water rights, and existing surface facilities. These assets make this project unique, interesting and quickly operational. The operation can be fast tracked to production and cash flow, especially considering the Conditional Use Permit issued by the State of California, allowing the mining of 350 to 500 tons or ore per day from the start. CUP 2007-04 is available for review.

The mineral processing of the ore that will be mined underground at the mine site will be done at a 75 TPD (tonnes per day) mill at Darwin, dry compacted tailings insure a zero discharge operation. The capacity will be increased to 500 TPD, sulfide and oxide circuits will be installed.

Our processing plan is based on state-of-the-art, base and precious metal production technologies taking full advantage of modern hydrometallurgical advances including ion exchange and differential sulfide flotation to produce lead, zinc, copper, silver, cobalt, tellurium, bismuth, and tungsten. Initial flotation work has indicated that recovery of 70% to 90% of contained metals can be expected.

Our initial development plan to produce revenue and cash flow is to crush and grind the ore and produce two finished products: Zinc Sulfate for fertilizer and animal feed supplements and a 99.99 EMEW silver product. The tungsten concentrate will be direct shipped to buyers. Waste rock will be crushed and sold as aggregates for concrete production and the high grade limestone as animal feed supplements as well. The underground chambers / stopes will be white washes a fire suppression system installed, and with a constant temperature of 58 degrees and ideal humidity, the space will be leased for secure, climate controlled document storage vaults, as seen in Missouri. Tailings from the mine will be filtered and used as back fill building structural backfill allowing removal of high grade pillars safely. With four million tons in targets above the lowest level developed, we will have adequate time to deepen three shafts in order to explore and develop potential deep zinc skarn deposits. Initial profits will allow us to drill the balance of the 1,050 acres which are untouched to date.

Using historical average production numbers documented from a recent underground project similar in nature, we estimate a total per ton mining cost of $230, with an average ore value of $500 per ton.

The tungsten concentrates are especially in demand in today's market. We have been contacted by Global Tungsten Powder and Kennametal, in addition to H C Stark about the purchase of our tungsten concentrates. We have received multiple inquiries from contractors for rock products most recently a 1.2 million ton contract. We are currently in the testing phase with Kronos Micronutrients attempting to confirm our test work allowing the production of Zinc Sulfates for agriculture use, and later Zinc Chlorides an even more profitable end product. We are confident of a marketing agreement with Kronos.

Our preference is to produce finished products thereby commanding a high profit on the world market and a substantial return on investment. The project funding requirement is $ 60M and we are open to various financing models as well as equity. We feel that our projected net pre-tax profit per year will escalate as projected prices climb to the previous highs of 2008. In addition, oxides and their minor metal content could generate additional 10% revenue per year.

The Darwin Mine can and will become the benchmark domestic producer of high grade base and precious metals using low cost, high-grade selective mining while generating local jobs and profits for our company, as well as being the only domestic Tungsten producer reducing foreign dependence for this essential metal. Essential agriculture fertilizer and quality animal feed supplements required by California's huge agriculture industry, currently transported from Mexico, India and China can be produced domestically and economically. Utilizing the mined out areas underground, for storage, with a much lower energy cost will maximize revenue for investors. A NPT revenue for the first year in excess of 10 M is anticipated, Ramping to in excess of 100M 3 year.

The Darwin Project team looks forward to providing any additional information to prospective investors and will be happy to answer any and all questions or concerns presented. Additional supporting documentation is available at our website, http://www.darwinsilver.org.